Rothusstrasse 21
6331 Hünenberg
CATEGORIES & HEADINGSdetails >>
Heavy Equipment //
Mining //
Normet is one of the market leaders
For over 50 years we have developed, manufactured and marketed equipment and vehicles for mining and underground construction. In addition we provide a comprehensive range of Life Time Care services e.g. maintenance, service programs, spare parts and training around the equipment and the processes they are used for. With over 11,000 delivered machines we have became one of the market leaders in our product areas.

Normets key missions
Amongst Normets key missions is to improve safety of the workers underground. As Normet is concentrating on the most challenging and dangerous phases of underground mining and tunnelling, it is important that these work processes can be automated and finished with machines rather than with people.

Customer processes
Our offering consists of solutions for the following underground customer processes:

* Concrete Spraying and Transport
* Explosive Charging
* Lifting and Installation
* Underground Logistics
* Scaling


Normet facts
Our companys head office with Group functions and R&D is in Iisalmi, Finland and manufacturing is located both in Iisalmi and Santiago de Chile, with a combined space of 26,000 sqm. Our Sales, Marketing and Product Offering Development are headed from our company in Switzerland, from where we manage our customer interface processes. And with global customer satisfaction in mind, we now employ over 1,000 business professionals in 44 locations worldwide.
Vendor Showcase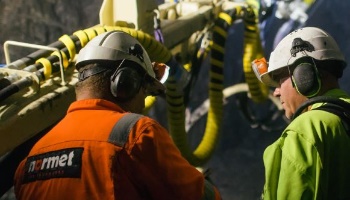 Normets' Charmec systems are built to improve safety and productivity in underground blasting and contribute to high quality and cost-effective bulk explosive charging. They also offer a consistently high resale value with low lifetime costs. Hundreds of read more